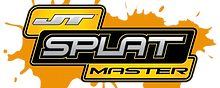 Splatmaster Junior Paintball – AS SEEN ON IRELAND'S FITTEST FAMILY
Looking for things to do in Kildare or organising a birthday party or club day out?  Splatmaster (Splat-ball, Low Impact Paintball, Jnr Paintball) is a low impact tag activity that uses pump action paintball blasters that shoot color filled round balls resulting in a splat. The Ammo is 100% biodegradable, non-toxic, resists stains, and easily washes away with water.
After a short instruction brief, you will take part in a team versus team battle scenarios such as Domination or Capture the Flag. Splatmaster is very safe due to it being low impact and fully supervised. Protective masks are provided. Own clothes are worn. Check out our video to get an idea of what's involved!
Splatmaster Sessions & Prices
Groups of 8 or more have the option of Saturday and Sunday morning and afternoon slots. If you have less than 8, you can simply book onto the Saturday afternoon slots below almost every weekend. MIDWEEK OPTIONS ARE AVAILABLE SUBJECT TO A MINIMUM SPEND OF €300
All packages must be pre-booked in advance below. Add ons (Unlimited Ammo, Pizza, Assault Course, Human Foosball) can be decided and paid for on the day or you can pre-pay below. All packages include as standard – Pump Action Shottie, Team Colour Bib, 70 Rounds per game, Full Face Protective Mask.
Add Ons | €5 per player per add on and allow 25-30 minutes additional time per add on
(Min 8 in your booking to avail of all the below)
Pizza (3 Slices and a drink pp and bring a cake if you wish)
Obstacle Assault Course
NEW Human Foosball (Table Soccer with humans!)
FREE PIZZA* WHEN YOU BOOK 10 OR MORE PLACES BETWEEN MARCH AND APRIL 2020
*If you book 10 players or more between March 1st – April 30th 2020 you will automatically receive free pizza on the day. Make sure to mention the offer on arrival.
FEEL FREE TO BRING A CAKE AND SET UP YOUR PARTY TABLE FOR THE APRÉS PARTY!
All participants of Splatmaster must have arms and legs covered when taking part. Participants arriving in shorts or t-shirts will not be permitted to play
PLEASE NOTE – ONCE MADE, ALL BOOKINGS ARE STRICTLY NON-REFUNDABLE
REMEMBER TO PRINT AND PRE-COMPLETE IN FULL A PERMISSION SLIP PER CHILD IN ADVANCE AND HAVE READY TO HAND IN AT THE DESK ON ARRIVAL. BOOKER CAN SIGN ON BEHALF OF ALL CHILDREN BUT WE ADVISE GETTING PARENTS TO COMPLETE THEM WHERE POSSIBLE
Permission Slips are required for each child in order to be permitted to take part and must be signed in advance and brought with you on the day. NOTE – You cannot sign for children on the day. Effective 29.05.2018, they can be signed by any "competent adult", ie group organiser, teachers, instructors, accompanying adult. It does not have to be a parent. Download here…
Splatmaster Junior Paintball
Gallery